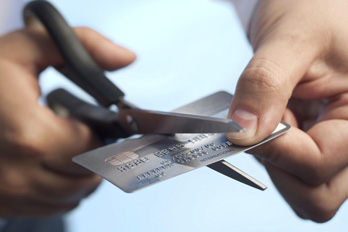 If you feel like credit card debt has taken over your life, statistics show that you're not alone. Recent numbers from the Nilsson Report reveal that the average American household carries over $8,000 in credit card debt. With the national unemployment rate hovering at 9.5%, it's no wonder that Americans are turning to credit cards to meet their everyday needs.
If you're struggling under the burden of debilitating credit card debt, and can't seem to make real progress with any of your creditors, your best option may be to declare bankruptcy. Filing for bankruptcy doesn't mean you've given up—for many, it's the only way to get back on the path to financial independence.
Stop Collections and Start Fresh
Straining to make ends meet is one of life's most stressful experiences. When you add harassing calls, constant worry, and financial pressure to the mix, coping with debt can turn into a nightmare. What most people don't realize is that credit card debt can quickly spiral out of control, resulting in a financial disaster and sense of helplessness. Many struggle needlessly instead of looking for a way out.
Bankruptcy eliminates credit card debt and wipes the slate clean, but it also stops medical bills, and other types of debts, not to mention home foreclosures, car repossession, and wage garnishment. If mounting debt is hampering your quality of life, the path to relief could be just a phone call away.
Let our bankruptcy professionals help you
Credit card debt has reached epidemic proportions in America. Many people pay out of pocket for credit counseling services, hoping that so called "expert" advice will be enough to help them regain their financial independence—but the only real, proven way to eliminate credit card debt is to declare bankruptcy.
Declaring bankruptcy doesn't have to be painful. With the right professionals guiding you, it's an easy way to take back control of your finances and your life. Lincoln Law is a leading bankruptcy firm in Utah and Northern California, and has helped clients eliminate credit card debts ranging from $5,000 to more than $300,000.
At Lincoln law, our core mission is to relieve our clients of credit card debt in a fast, stress-free manner. Let our experienced bankruptcy professionals help you reclaim your finances—call our offices at 800-404-0018 for a free consultation and find out what your legal and financial options are.